Vol 1 Issue 3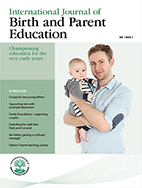 Championing education for the very early years
IN THIS ISSUE:
Groups for very young fathers
Supporting men with postnatal depression
Family Foundations - supporting couples
Exploding the myth that Dads aren't around
Are fathers getting a confused message?
Fathers' Charter teaching activity 
Please Login or Subscribe to access content
If you already subscribe, please log in here to access this content.
You will need your login name and password.
If you are not already a subscriber you will need subscribe to access this and all our issues.
Online access is from as little as £25 per year for all our content from every issue.