Vol 11 Issue 1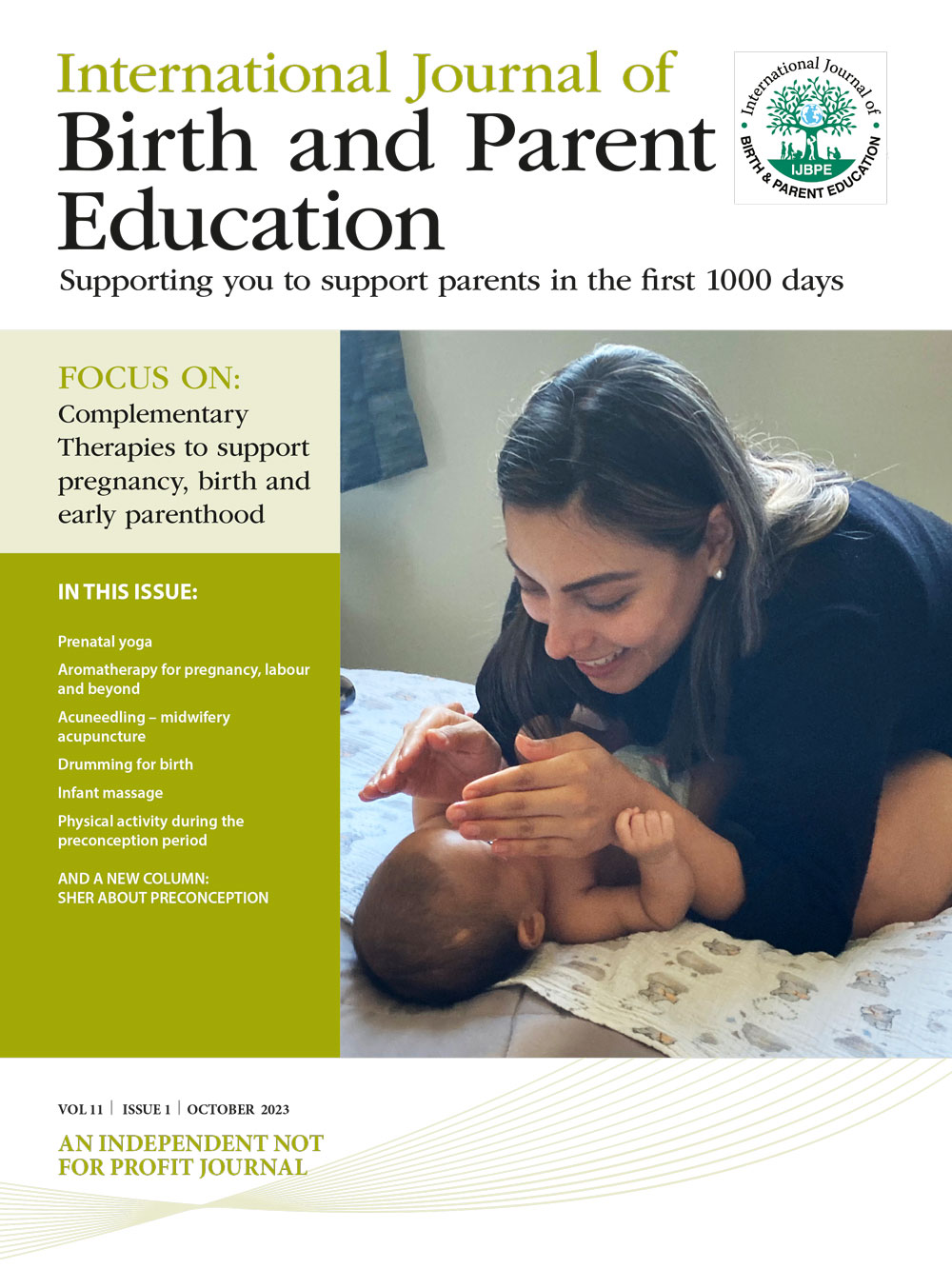 FOCUS ON: Complementary Therapies to support pregnancy, birth and early parenthood
IN THIS ISSUE: 
Prenatal yoga
Aromatherapy for pregnancy, labour and beyond
Acuneedling – midwifery 
acupuncture
Drumming for birth
Infant massage
Physical activity during the 
preconception period
AND A NEW COLUMN:
SHER ABOUT PRECONCEPTION
Complementary therapies in midwifery: A personal reflection
Dr Denise Tiran, Midwife, Educator, Fellow of the Royal College of Midwives and recipient of an Honorary Doctorate from the University of Greenwich, London, reflects on her distinguished career Aas an international authority on complementary therapies in the childbearing year. 
---
Complementary therapies in midwifery: A personal reflection
Author: Dr Denise Tiran
Author title: Midwife, Educator, Fellow of the Royal College of Midwives and recipient of an Honorary Doctorate from the University of Greenwich, London
Description: Dr Denise Tiran, Midwife, Educator, Fellow of the Royal College of Midwives and recipient of an Honorary Doctorate from the University of Greenwich, London, reflects on her distinguished career Aa
---
Aromatherapy for pregnancy, labour and beyond
Author: Jo Kellet
Author title: Co Aromatherapist, Tutor in Aromatherapy, Infant Massage Instructor, Contributing Author to 'Aromatherapy for Health Professionals' (Elsevier, 2021) 
Description: Pregnancy brings about many physical and emotional changes that a woman has to cope with. Aromatherapy and massage can be very useful tools during pregnancy when women are advised against the use of allopathic medication. Essential oils, if used safely, can help ease many unwanted pregnancy symptoms.
---
Prenatal yoga in support of pregnancy, labor, delivery and beyond
Author: Jennifer Pettit 
Author title, Therapeutic Yoga Teacher, Chandrakala Yoga, Author, Birth Doula and Mother 
Description: Prenatal yoga is a practice to create a sacred time and space for both the expecting mother and the baby. The practice of yoga is an invitation to connect the mother's vibrant generative life force to that of the growing life force inside her. It offers an environment in which the mother can cultivate a deeper connection to the process of transformation that is occurring. The time spent in a prenatal yoga class empowers a woman to create a connection with her baby, and the poses support easier labor and delivery as well as postpartum recovery. It is important for mothers to work with a teacher who is knowledgeable and certified in teaching yoga to the pregnant population. 
---
Acuneedling - midwifery acupuncture: What is its scope and purpose?
Author: Heidi Williams and Kate Levett
Author title: 
Heidi Williams, Privately Practising Midwife, Central Coast, NSW, Australia 
Kate Levett, Senior Research Fellow, School of Medicine, The University of Notre Dame Australia; Privately Practising Acupuncturist 
Description: In pregnancy and birth, complementary therapies, including Traditional Chinese and East Asian Medicine (TEAM) techniques, are supported by substantial evidence of safety, effectiveness and cost effectiveness, particularly for acupuncture and acupressure. These techniques demonstrate enormous capacity for supportive care of women, and their integration into maternity care is favoured by women and midwives worldwide; however, acupuncturists have not been well integrated into maternity systems. The opportunity for midwives, who primarily care for women, to offer acupuncture and acupressure as part of their skill set is very appealing and would fill a substantial gap in translating evidence into practice. However, there is, unfortunately, limited evidence for clinical application of midwifery acupuncture - also known as 'acuneedling' - and acupressure for pregnancy, intrapartum and postnatal care. Additionally, funding for pilot projects is hard to come by. 
---
Drumming for birth: Why drumming is a powerful support tool for pregnancy and birth
Author: Sophie Messager 
Author title: Perinatal Educator, Drum Healer, Drum Circle Facilitator, Author of 'Why Postnatal Recovery Matters' (Pinter & Martin, 2020)
Description: Drumming practices have been documented across global cultures, often integrated into rituals surrounding major life transitions such as births, coming-of-age, marriages, and deaths. In many contemporary Western societies these drumming traditions have waned, becoming viewed as unconventional. Yet drumming has powerful neurophysiological effects demonstrated by research, which are well suited to supporting the birth journey. 
---
Physical activity during the preconception period: How much and why it matters
Author: Zhong Eric Chen 
Author title: Independent Fitness Instructor, University of Edinburgh, Faculty of Sexual and Reproductive Healthcare, Chalmers Sexual Health Centre, Edinburgh, Scotland 
Description: Keeping physically active during the preconception period is beneficial to individuals' general health and well-being and contributes to a healthy pregnancy. However, many individuals do not meet the World Health Organization's recommended amount of physical activity. This article will provide an understanding of the term 'physical activity', explore the appropriate level of physical activity for the preconception population, consider the barriers and facilitators to being more physically active, and suggest ways in which we can improve preconception physical activity to support individuals to achieve healthier pregnancies and better lives. 
---
Infant massage: Ancient as the world - modern necessity The work of the International Association of Infant Massage (IAIM)
Author: Sylvie Hétu
Author title: IAIM International Trainer, Author, Lecturer and former IAIM International President 
Description: In writing this article, it is my aim to invite you to consider sending every parent that you work with to a five-session course with an IAIM Instructor or to become an IAIM Instructor yourself. This year, I celebrate 40 years of being actively involved with the IAIM. At the golden age of 68, I intend to continue as long as destiny allows. I valued IAIM enormously when I was first introduced to it and I value it even more now that studies are flooding in with positive results about the physical, emotional, mental and social benefits of massage for both babies and parents 
---
Countdown to the 1,000 Days
Author: Dr Jonathan Sher
Description: This is a new regular column on preconception health, education and care by Dr Jonathan Sher, IJBPE Contributing Editor. Jonathan was the Founding Partner in Scotland's Coalition for Healthier Pregnancies, Better Lives (HPBL) while working at the Queen's Nursing Institute Scotland. He is also an Affiliate Professor in the School of Public Health and Preventive Medicine at Monash University. Jonathan invites your comments, stories, questions and advice 
---
Public services urgently need vision and leadership
Author: Sally Hogg
Description: Sally Hogg, Senior Policy Fellow at the Centre for Play in Education, Development and Learning (PEDAL), University of Cambridge, UK 
Sally Hogg reflects on a decade of change in the UK maternity and parenting landscape .
---