Vol 2 Issue 1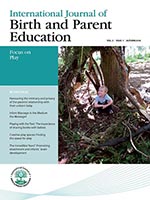 Focus on play
IN THIS ISSUE:
Honouring the intimacy and privacy of the parents' relationship with their unborn baby
Infant Massage: Is the Medium the Message?
Playing with the Text: The importance of sharing books with babies
Creative play spaces: Finding the space for play
The Incredible Years®: Promoting attachment and infants' brain development
Please Login or Subscribe to access content
If you already subscribe, please log in here to access this content.
You will need your login name and password.
If you are not already a subscriber you will need subscribe to access this and all our issues.
Online access is from as little as £25 per year for all our content from every issue.