Vol 2 Issue 2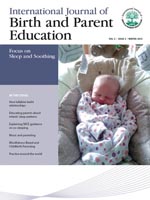 Focus on Sleep and Soothing
IN THIS ISSUE:
How lullabies build relationships
Educating parents about infants' sleep patterns
Explaining NICE guidance on co-sleeping
Music and parenting
Mindfulness-Based and Childbirth Parenting
Practice around the world
Please Login or Subscribe to access content
If you already subscribe, please log in here to access this content.
You will need your login name and password.
If you are not already a subscriber you will need subscribe to access this and all our issues.
Online access is from as little as £25 per year for all our content from every issue.