Vol 5 Issue 3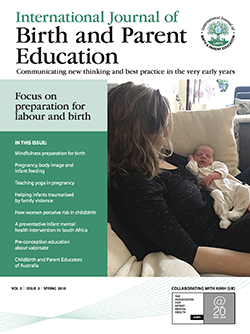 Focus on preparation for labour and birth
IN THIS ISSUE:
Mindfulness preparation for birth
Pregnancy, body image and infant feeding
Teaching yoga in pregnancy
Helping infants traumatised by family violence
How women perceive risk in childbirth
A preventative infant mental health intervention in South Africa
Pre-conception education about valproate
Childbirth and Parent Educators of Australia
Please Login or Subscribe to access content
If you already subscribe, please log in here to access this content.
You will need your login name and password.
If you are not already a subscriber you will need subscribe to access this and all our issues.
Online access is from as little as £25 per year for all our content from every issue.